My Now
My Now is your personal video library. See your Watchlist, get recommendations, view your history, saved items, scheduled recordings and manage your downloads all in one place.
For subscribers with the UX3 TV interface, My Now is synchronized with your set top box.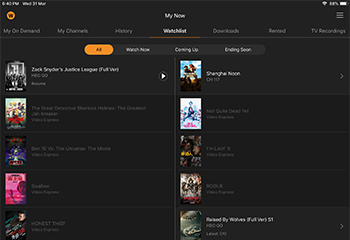 Watchlists
The Watchlist organizes all your favorite programs, whether from On Demand catalogs or Live Channels. Simply press the "+" button to add a program or series to the list.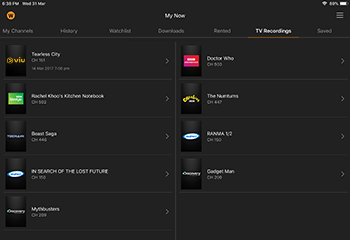 TV Recording
For UX3 interface users with the TV Recording feature and a Now Hard Disk Drive, Now Player allows you to schedule programs to be recorded on the set top box.
Your list of scheduled recordings is viewable in My Now > Recordings.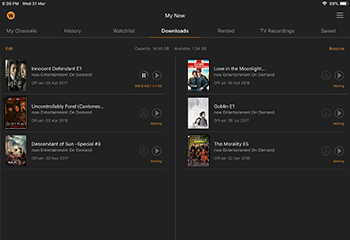 Download
Now Player allows many programs to be downloaded to your device for viewing offline. Downloaded programs will expire and be automatically deleted after 7 days.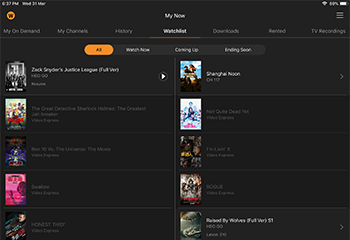 Saved Programs
For UX3 interface users, some TV programs added to the Watchlist are automatically saved for you to watch later. You can find the list of saved programs in My Now > Saved.
Saved programs can be viewed on TV through your set top box and are saved for 7 days, though sometimes longer depending on the channel.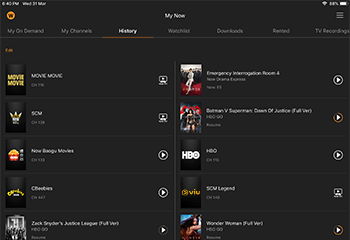 History
View your history to resume on demand programs and select recently watched channels quickly. TV channels appear in your History after a couple minutes of viewing UX3 interface users can view both their Now Player History as well as their TV set top box History.
(Note: TV History may be turned off in Settings on your set top box)