My Now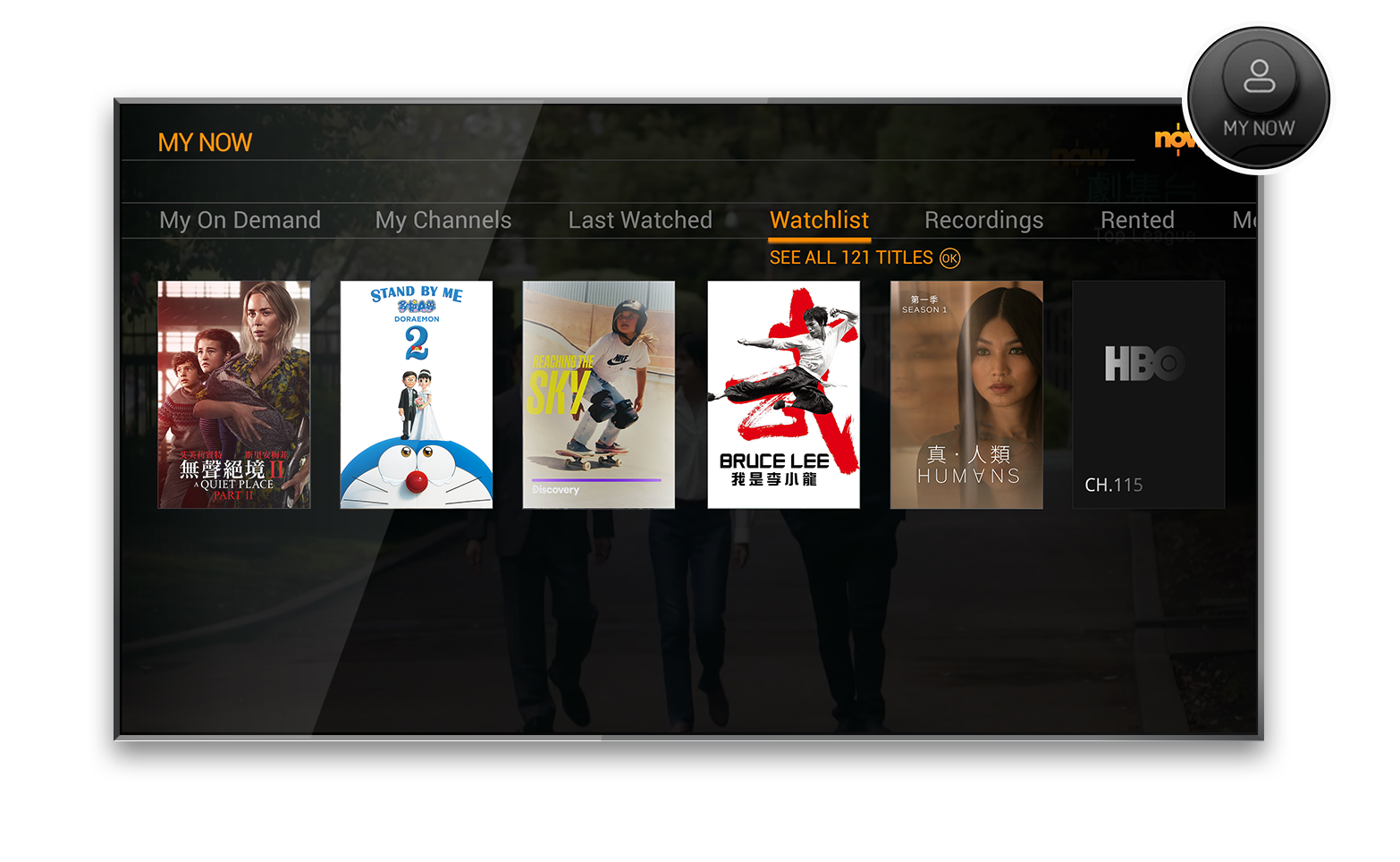 Your Personal Channel – See your Watchlist, get personalized recommendations, manage your recordings and save shows all in one place. You'll easily find what you last watched to pick up from where you left off.
Watch Tutorial
FAQ
What is "Recommended"?
Starred programs are recommended just for you. Recommendations grow smarter as UX3 learns your preferences. Your watchlist also helps the accuracy of personalised recommendations.
What is "Recordings"?
UX3 can record Now TV and Digital Terrestrial Television (DTT) programs to a Now Hard Disk Drive. With Series Recording, you won't miss an episode even if it changes schedule.
What is "+Saved"?
Many TV programs added to the Watchlist will be automatically saved for you to watch later. You'll see them marked "+Saved" in program details. Programs will be saved for you from 7 to 30 days, depending upon the channel provider. They can be found in your Watchlist as well as in the Saved category of My Now.
Some channels unfortunately don't allow programs to be saved, however, the Watchlist will help you find other times to watch, and look out for new episodes of series.
How do I use the "+Save" function?
While Watching TV
Step 1: Press the "Info" button to see the Mini Guide and program details.
Step 2: If the channel supports Network Recording service, "+Save" will marked in program details, which will change to "+Saved" once you press the button.
From TV Guide
Step1: Those shows marked "+Save" can be saved to view on-demand after their air date. Simply add the show to your watchlist.
Step2: Go to My Now > Saved > to view your saved file.
How will I know if a channel supports "+Save" function?
A "+Save" tag will be showed next to the programs which supports the "+Save" feature in the "Mini Guide" and "TV Guide". Please check the preceding page to see if the program you have in mind is compatible with this feature.
Can Now One facilitate scheduled "+Save" function, even when my set-top box or modem is switched off?
What is "History"?
View your history to resume on demand programs and navigate quickly between channels. A channel will show up in your history after a couple minutes of viewing.
Can I opt out of "History"?
You can switch off your History function by taking these steps: Home > Settings > History Settings > Off.
If I remove a title from my Watchlist, will my scheduled TV recording / "Save to watch later" be cancelled?
"Save to watch later" will be cancelled automatically, and you will be prompted if TV Recording files and schedules should also be removed.